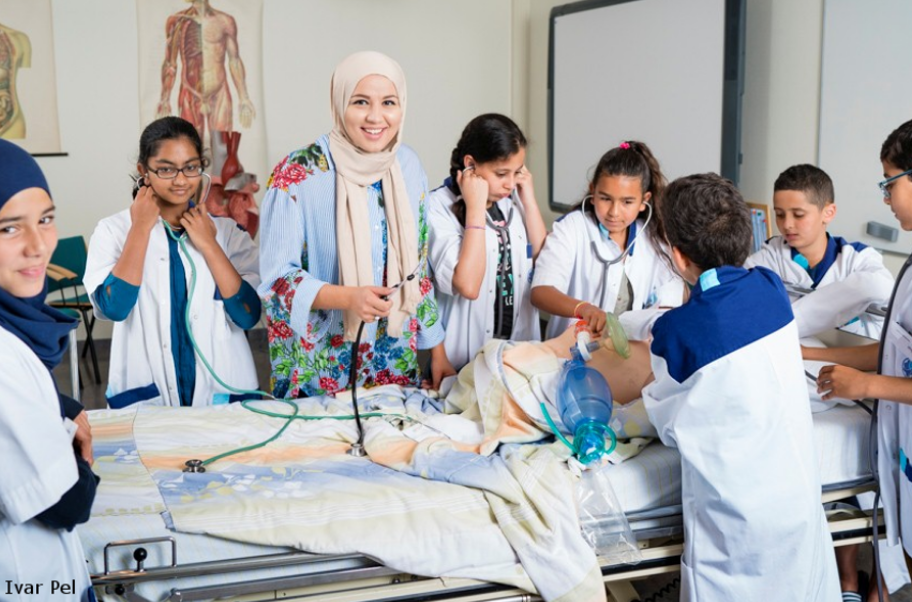 WHY did we embark on this project?
What you learn at an early age puts you on course for the rest of your life. This is why, in a nutshell, well-structured interactive schooling is of immeasurable value. Psychologist Heleen Terwijn understood this – and acted on it. In 1998 she founded the NGO IMC Weekendschool, to give Dutch children from underprivileged neighbourhoods the opportunity to acquire the knowledge, skills and confidence needed to find a place in society matching their talents and capabilities.
United Way the Netherlands wholeheartedly supports this noble goal. Bridging the gap caused by social inequality in order to give specific population groups a better start in life is at the heart of our activities. Thanks to the funds generously donated by TotalEnergies Marketing Nederland, we have entered into a tripartite project that will be implemented from this summer.
WHAT does the project entail?
In addition to their regular schooling, Learning for Life offers young teenagers a three-year programme that is delivered every Sunday at a IMC Weekendschool location in a Dutch city, probably The Hague. The workshops and classes given by professional teachers encompass a wide range of topics. The participants are shown what it takes – and what it's like – to be for example a doctor, a performer or an entrepreneur. They are also taught how to make a presentation, take part in a debate, and so on.
IMC Weekendschool is well placed to implement Learning for Life. It currently teaches a total of 1.150 pupils at 10 locations throughout the Netherlands. In The Hague, its classes are attended by teenagers from 12 primary schools throughout the city. Our work plan provides for TotalEnergies employees to volunteer their services as additional teachers.
WHAT RESULTS have we achieved so far?
While United Way bears responsibility for the coordination, monitoring and evaluation of Learning for Life and for the correct utilization of its resources, it is too early to discuss results. However, various ongoing projects are proof of the quality and effectiveness of our activities. The track record of the IMC Weekendschool, which has been the subject of in-depth academic research, leaves us in no doubt that, after three years of IMC Weekendschool, its alumni will be well on the way to becoming valued and motivated members of 21st-century society.
HOW do participants look back on the IMC Weekendschool programme?
IMC Weekendschool Ambassador Elyas Razawi
One example. IMC Weekendschool alumnus Elyas Razawi feels that the programme has made him the person he is today. Now a student of business administration at Nyenrode University, where he made a presentation during a IMC Weekendschool event, he hopes to share his experience with the next generation of participants. 
WHERE do we go from here?
We are aware that, while we are confident that Learning for Life will prove successful, the available finance will be an important factor for its scale and continuity. The support from TotalEnergies means we are off to a good start. However, with an eye to the future we also invite other organizations, large and small, from the private and public sectors, to follow its lead. 
For additional information please contact Cedar Cox-McAllister: cedar.cox-mcallister@unitedway.nl